Interview with Katherine Puddifoot, author of How Stereotypes Deceive Us

Katherine Puddifoot, author of How Stereotypes Deceive Us recommends an intriguing set of books! Before jumping into the interview, please check out Katherine's book:
How Stereotypes Deceive Us
Review from Book Depository: Stereotypes sometimes lead us to make poor judgements of other people, but they also have the potential to facilitate quick, efficient, and accurate judgements. How can we discern whether any individual act of stereotyping will have the positive or negative effect? How Stereotypes Deceive Us addresses this question. It identifies various factors that determine whether or not the application of a stereotype to an individual in a specific context will facilitate or impede correct judgements and perceptions of the individual. It challenges the thought that stereotyping only and always impedes correct judgement when the stereotypes that are applied are inaccurate, failing to reflect social realities. It argues instead that stereotypes that reflect social realities can lead to misperceptions and misjudgements, and that inaccurate but egalitarian social attitudes can therefore facilitate correct judgements and accurate perceptions.

The arguments presented in this book have important implications for those who might engage in stereotyping and those who are at risk of being stereotyped. They have implications for those who work in healthcare and those who have mental health conditions. How Stereotypes Deceive Us provides a new conceptual framework-evaluative dispositionalism-that captures the epistemic faults of stereotypes and stereotyping, providing conceptual resources that can be used to improve our own thinking by avoiding the pitfalls of stereotyping, and to challenge other people's stereotyping where it is likely to lead to misperception and misjudgement.

Buy On:
Book Depository €64.03 Waterstones £55.00 Wordery $21.35

(All links earn commission from purchases. Prices accurate at time of writing)
~

Q. Do you have a favourite smart thinking book (and why that book)?
I admire Quiet by Susan Cain for providing a thought-provoking and compelling case for the value of the introvert. The book provides a great balance of historical examples, personal anecdotes, and scientific evidence to support a genuine challenge to what seems to be a fundamental assumption of many people: that it is best to be extroverted. Reading this book challenged my ways of thinking about several things, including what it is to be an introvert, how to work as an introvert, and how to approach social interactions, especially those with children who might be introverts. The book has a new resonance after years of online meetings, especially as it argues that group work is often counterproductive unless done online or at a distance. My experience during recent years has been precisely this: collaborating with colleagues has been especially productive online.


Quiet: The Power of Introverts in a World That Can't Stop Talking
Review from Book Depository: Quiet, the Sunday Times and New York Times Bestseller by Susan Cain, will permanently change how we see introverts - and how you see yourself.

Our lives are driven by a fact most of us can't name and don't understand: whether we're an introvert or an extrovert. This defines who our friends and lovers are, which careers we choose, and whether we blush when we're embarrassed. At least a third of us are on the introverted side. Some of the world's most talented people are introverts. Without them, we wouldn't have the Apple computer, the theory of relativity and Van Gogh's sunflowers. Yet extroverts have taken over. Shyness, sensitivity and seriousness are often seen as being negative. Introverts feel reproached for being the way they are.
In Quiet, Susan Cain shows how the brain chemistry of introverts and extroverts differs, and how society misunderstands and undervalues introverts. She gives introverts the tools to better understand themselves and take full advantage of their strengths.

Buy On:
Book Depository €9.49 Waterstones £9.99 Wordery $10.84

(All links earn commission from purchases. Prices accurate at time of writing)



Q. What's the most recent smart thinking book you've read (and how would you rate it)?
Most recently I have been reading Republic by Cass R. Sunstein. Sunstein provides a compelling case for the importance of encountering a diversity of political ideas. He provides vivid examples illustrating the value of chance encounters with ideas that are different to our own. I find it intriguing to consider how we can gain knowledge from happening upon the ideas of other people as we would bump into our neighbours in the street. I think it is crucial to consider how being isolated from competing views can lead us to move further away from the truth.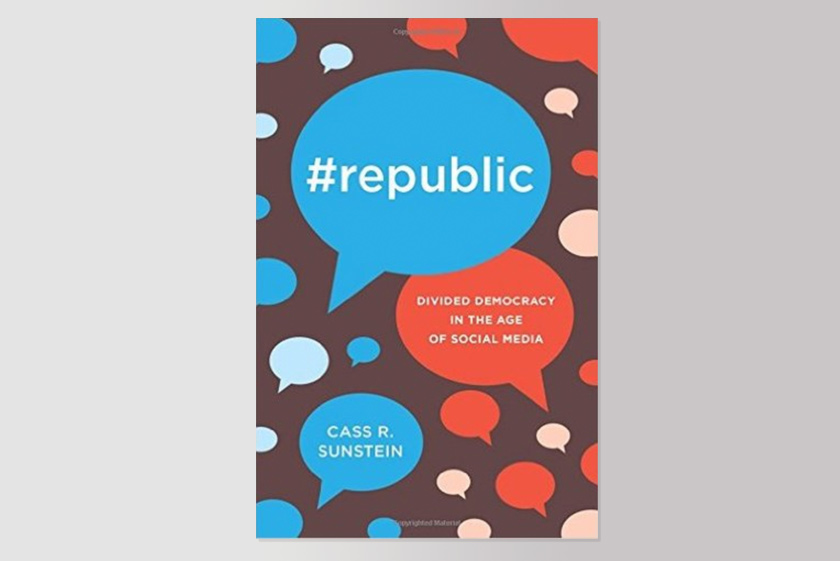 #republic: Divided Democracy in the Age of Social Media
Review from Book Depository: As the Internet grows more sophisticated, it is creating new threats to democracy. Social media companies such as Facebook can sort us ever more efficiently into groups of the like-minded, creating echo chambers that amplify our views. It's no accident that on some occasions, people of different political views cannot even understand one another. It's also no surprise that terrorist groups have been able to exploit social media to deadly effect. Welcome to the age of #Republic.

In this revealing book, New York Times bestselling author Cass Sunstein shows how today's Internet is driving political fragmentation, polarization, and even extremism--and what can be done about it. He proposes practical and legal changes to make the Internet friendlier to democratic deliberation, showing that #Republic need not be an ironic term. Rather, it can be a rallying cry for the kind of democracy that citizens of diverse societies need most.


Buy On:
Easons €20.99 Book Depository €16.21 Waterstones £16.99 Amazon US $18.25

(All links earn commission from purchases. Prices accurate at time of writing)
Q. Do you have a favourite childhood book?
In my early childhood I loved The Owl Who Was Afraid of the Dark. It is a story about an owl overcoming his fear of the dark and learning that it is wonderful. Funnily enough this book might have appealed to me because Plop the owl in the book was far from a stereotypical owl.

I got interested in authors like Jane Austen from a relatively young age, my early teens. The book Pride and Prejudice still stands out as a favourite book from this stage of late childhood. Although the book has at its heart a cluster of romantic storylines, it says so much about themes that have become central to my research, especially in my new book: how hurt pride can lead to prejudice, and how prejudice can prevent us from seeing the truth, leading us to misjudge people, often making poor and harmful choices as a result.


The Owl Who Was Afraid of the Dark
Review from Book Depository: Plop, the Baby Barn Owl, is like every Barn Owl there ever was, except for one thing - he is afraid of the dark. "Dark is nasty" he says and so he won't go hunting with his parents. Mrs Barn Owl sends him down from his nest-hole to ask about the dark and he meets a little boy waiting for the fireworks to begin, an old lady, a scout out camping, a girl who tells him about Father Christmas, a man with a telescope and a black cat who takes him exploring. He realizes that through these encounters that dark is super after all.


Buy On:
Easons €8.40 Book Depository €7.12 Waterstones £6.99 Wordery $7.99

(All affiliate links earn commission from purchases that help fund this site. Prices accurate at time of writing)
Pride and Prejudice
Review from Book Depository: When Elizabeth Bennet first meets eligible bachelor Fitzwilliam Darcy, she thinks him arrogant and conceited; he is indifferent to her good looks and lively mind. When she later discovers that Darcy has involved himself in the troubled relationship between his friend Bingley and her beloved sister Jane, she is determined to dislike him more than ever. In the sparkling comedy of manners that follows, Jane Austen shows the folly of judging by first impressions and superbly evokes the friendships,gossip and snobberies of provincial middle-class life.


Buy On:
Easons €9.80 Book Depository €16.34 Waterstones £14.99 Wordery $15.52

(All affiliate links earn commission from purchases that help fund this site. Prices accurate at time of writing)
Q. Do you prefer reading on paper, Kindle or listening to an audiobook?
I prefer reading on paper wherever possible. I find it satisfying to progress through the physical pages of a book. Audiobooks are great for accessing a book while running. I strongly associate certain places from my running route with ideas I have heard in specific audiobooks.


Q. Do you have a favourite bookshop (and why that shop)?
Two bookshops stand out. Rhyme and Reason in Sheffield was a favourite for myself and my family when my first child was born. It is located near an excellent park that has a path that leads out to the Peak District. Coming back from walks I would sometimes spot a book in the window, and would have to go in with my then baby son to pick it up. We now live in North East England and treat ourselves to the occasional trip to Forum Bookshop in Corbridge for a similar experience.
~

Many thanks to Katherine for recommending an intriguing set of books! Please don't forget to check out Katherine's book The End of Bias: A Beginning : The Science and Practice of Overcoming Unconscious Bias.
Daryl
Image Copyrights: Oxford University Press (How Stereotypes Deceive Us), Penguin Books Ltd (Quiet, Pride and Prejudice), Princeton University Press (#republic), HarperCollins Publishers(The Owl Who Was Afraid Of The Dark)
< Home