Interview with Susannah McFarlane, author of Fairytales for Feisty Girls

Susannah McFarlane, author of Fairytales for Feisty Girls, tells us about her favourite books! Before jumping into the interview, please check out Susannah's book: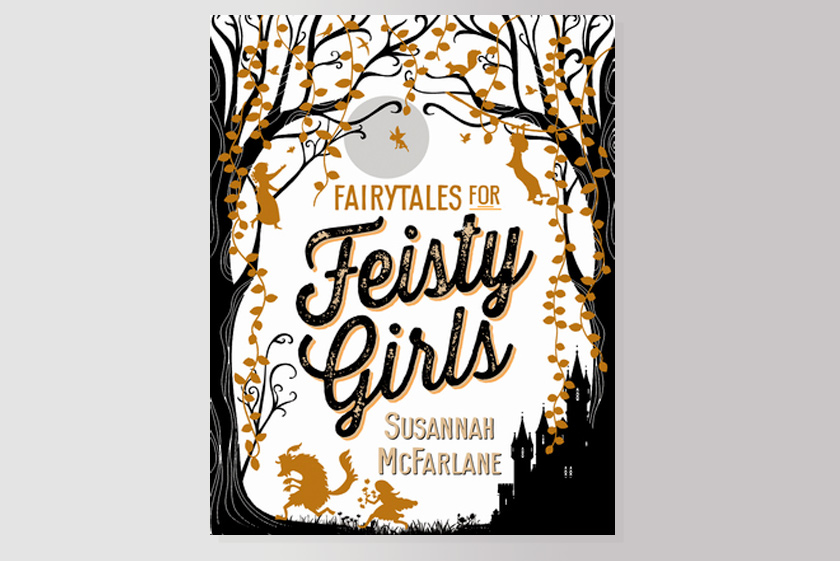 Fairytales for Feisty Girls
Review from Book Depository: Feisty: typically describes one who is relatively small, lively, determined and courageous.

Girls can rescue themselves - just watch Rapunzel, Little Red Riding Hood, Cinderella and Thumbelina create their own happily ever afters in this beautiful and emboldening bedtime book.

A glorious treasury for young girls - and boys - featuring artwork from four leading Australian illustrators: Beth Norling, Claire Robertson, Lucinda Gifford and Sher Rill Ng.
Buy On:
Book Depository €28.30 Waterstones £12.99 Wordery $13.70

(All affiliate links earn commission from purchases that help fund this site. Prices accurate at time of writing)
~

Q. Do you have a favourite smart thinking book (and why that book)?
The Bible. It's not just a book full of life lessons (though it contains many - consider others above ourselves, overlook offences, look after the orphans and the verses on the qualities of love that everyone knows but no one can achieve in 1 Corinthians 13, to name a few) but a beautiful book of poetry (take Ecclesiastes 3 'A time for everything, a time to be born and a time to die …) and stories of the human experience and heart, with hundreds of stories woven into one big story. The symmetries, the themes playing forward and back are breathtaking. You could read if for a lifetime and still experience revelation. The words are living and active and new translations offer new ways into it - my favourite phrase is from The Message translation, the invitation to experience the 'unforced rhythms of grace' - so much offered in four words.


The Message Devotional Bible: Featuring Notes & Reflections from Eugene H. Peterson
Review From Book Depository: Find Your Way in Scripture.Scripture is another world. One we find our way into. And one that finds its way into us. Steeped in Scripture, Eugene Peterson's faith-filled reflections open the door.The Message Devotional Bible invites you on a journey--call it practicing resurrection, call it eating this book, or call it simply a long obedience in the same direction. From the pastor who translated the entire Bible, The Message Devotional Bible sets you on the right path--devoted not just to the Bible but to God, who, in Jesus, became flesh and blood and moved into the neighborhood.Open the door between Scripture and your world.From Eugene . . .Over 600 scriptural insights52 contemplative readingsIntroductions to the books and genres of the BiblePlus . . .More than 400 reflection questions9 neighborhood-themed articles
Buy On:
Book Depository €26.52 Waterstones £25.99 Wordery $28.56

(All links earn commission from purchases. Prices accurate at time of writing)
Q. What's the most recent smart thinking book you've read (and how would you rate it)?
You're Not Listening: What you're Missing and Why it Matters. A look at how and why no one seems to be listening, really listening to anyone, how we seem to have lost the capacity to be quiet, to stop talking, to stop filling the space where others might come. A disarmingly readable and wise call to shut up!


You're Not Listening: What You're Missing and Why It Matters
Review From Book Depository: When was the last time you listened to someone, or someone really listened to you? This life-changing book will transform your conversations forever

As a society, we've forgotten how to listen. Modern life is noisy and frenetic, and technology provides constant distraction. So we tune things out or listen selectively - even to those we love most. We've become scared of other people's points of view, and of silence.

Now more than ever, we need to listen to those around us. New York Times contributor Kate Murphy draws on countless conversations she has had with everyone from priests to CIA interrogators, focus group moderators to bartenders, her great-great aunt to her friend's toddler, to show how only by listening well can we truly connect with others.

Listening is about curiosity and patience - about asking the right questions in the right way. Improvisational comedians and con men are much better at it than most of us. And the cleverest people can be the worst at it. Listening has the potential to transform our relationships and our working lives, improve our self-knowledge, and increase our creativity and happiness. While it may take some effort, it's a skill that can be learnt and perfected. When all we crave is to understand and be understood, You're Not Listening shows us how.
Buy On:
Book Depository €15.97 Waterstones £16.99 Wordery $17.15

(All links earn commission from purchases. Prices accurate at time of writing)
Q. Do you have a favourite childhood book?
My favourite childhood book is a tie: Ferdinand the Bull, the misunderstood pacifist and The Enchanted Wood - I still remember it being read to me at school and wishing myself off my reading mat, up the Faraway tree and into all those lands and then down Moonface's slippery slip - and all in time for tea!


Ferdinando El Toro / Fernando the Bull
Review From Book Depository: From a riddling sphinx to a monkey who would be king, here are 35 timeless myths and legends from around the world. Packed with action and humour, Anthony Horowitz's refreshingly different retellings provide a perfect introduction to the heroes and monsters of mythology, reissued with a brand-new cover and redesigned insides.



Buy On:
Book Depository €9.42

(All links earn commission from purchases that help fund this site. Prices accurate at time of writing)
The Enchanted Wood
Review From Book Depository: Come on a journey full of magic and adventure in THE MAGIC FARAWAY TREE!

When Joe, Beth and Frannie move to a new home, an Enchanted Wood is on their doorstep. And when they discover the Faraway Tree, that is the beginning of many magical adventures! Join them and their friends Moonface, Saucepan Man and Silky the fairy as they discover which new land is at the top of the Faraway Tree. Will it be the Land of Birthdays, the Land of Toys, or even the Land of Ice and Snow with its magic snowman?
Buy On:
Book Depository €7.73 Waterstones £6.99 Wordery $8.74

(All links earn commission from purchases. Prices accurate at time of writing)
Q. Do you prefer reading on paper, Kindle or listening to an audiobook?
Fiction on paper, non-fiction on Kindle and audio not so much - it feels too disembodied for me and every time I have tried, I have ended up doing something else while listening and whatever that was distracts me from really listening fully (see above).


Q. Do you have a favourite bookshop (and why that shop)?
My favourite bookshop is, perhaps not surprisingly, my local bookshop, The Grumpy Swimmer. They know me, my kids, what we've read, what we liked, what we didn't - and throughout lock-down they have delivered books to our door.
~

Many thanks to Susannah for sharing her favourite books with us! Please don't forget to check out her book Fairytales for Feisty Girls.
Daryl
Image Copyrights: Allen & Unwin (Fairytales For Feisty Girls), NavPress Publishing Group (The Message Bible), Vintage Publishing (You're Not Listening), Lectorum Pubns (Fernando The Bull), Hachette Children's Group (The Enchated Wood).
< Home