Authors Christmas Recommendations 2022 - Part I

Welcome to a special series of posts in the run up to the holiday season! I asked some of the lovely authors that have previously appeared on the site about their Christmas book recommendations for this year. They graciously replied with some fantastic book picks! Hopefully these book recommendations might help you with your own Christmas shopping gift ideas too! :-)
~

Q. Is there a smart thinking book that you are looking forward to reading this Christmas, or one you would like to give or receive as a gift?
Talya Miron-Shatz
Here goes: Influence Is Your Superpower: The Science of Winning Hearts, Sparking Change, and Making Good Things Happen by Zoe Chance.
If you think only the most charismatic people can influence others, and you're not that charismatic – you're wrong.
If you think 'influence' is the same as 'manipulation' and it leads to negative results – you're wrong.
And if you want to be that person who influences others, and does that to increase good in the world, in a science-based manner – you absolutely must read Influence Is Your Superpower: The Science of Winning Hearts, Sparking Change, and Making Good Things Happen.

Zoe Chance, a Yale business professor wrote this clear, compelling guide for exerting influence. Just a tiny demonstration of her approachability comes from the terms she coined to describe how we process information. What Nobel Prize winner Daniel Kahneman calls System 1 and System 2, she calls 'The Gator' – depicting our minds as a lazy creature interested mainly in survival, and 'The Judge' – when we take the trouble to perform elaborate judgments. From there it only gets better, with stories of love, and influencing the elections in Tunisia (I know, right?). It's a book by a brilliant scientist, who managed to write it both for anyone craving a great business book on influence, and for anyone who knows they need it but feel iffy about changing others' behavior.
Effective, informative, and fun! Enough to please gators and judges alike.
Influence Is Your Superpower: The Science of Winning Hearts, Sparking Change, and Making Good Things Happen
Review from Book Depository: Get what you want without compromising who you are: the new rules of persuasion to influence others for good We're all nice. In fact, we're told we're too nice and we have to change to succeed: 'Play the game!'; 'Beat them down!'; 'Toughen up!'. Do we have to choose between betraying our own values and being left behind without a voice? Absolutely not. We can naturally be persuasive and successful every day without making enemies of ourselves or other people.

Influence is a science and renowned Yale professor Zoe Chance will help you master it in this fascinating book. Drawing on the latest behavioural research, entertaining real-life stories and the skills she teaches on her sell-out Yale University MBA course, Zoe Chance unpacks what influence is and how we are persuaded before setting out a series of powerful skills you can adopt to master the art of persuasion and influence. Her techniques include the Magic Question, Powerful Listening, the What Would It Take Question and Building Support. She also looks at how to use influence for maximum positive impact in the world - and how to defend yourself against the 'dark arts' of persuasion by other less scrupulous individuals or institutions.

Bold, entertaining and efficacious, this indispensable book is a call to action for all the nice people in the world wanting to practice influence without resorting to manipulation, bullying or corruption to create a brighter more positive future.

Buy On:
Easons

€16.80

Book Depository

€11.25

Waterstones

£10.99

Wordery

$10.70

(All links earn commission from purchases. Prices accurate at time of writing)

You can read Talya's previous interview & book recommendations here, and please also check out Talya's book Your Life Depends on It: What You Can Do to Make Better Choices About Your Health.


Your Life Depends on It: What You Can Do to Make Better Choices About Your Health
Review from Book Depository: A top expert on decision-making explains why it's so hard to make good choices-and what you and your doctor can do to make better ones In recent years, we have gained unprecedented control over choices about our health. But these choices are hard and often full of psychological traps. As a result, we're liable to misuse medication, fall for pseudoscientific cure-alls, and undergo needless procedures.

In Your Life Depends on It, Talya Miron-Shatz explores the preventable ways we make bad choices about everything from nutrition to medication, from pregnancy to end-of-life care. She reveals how the medical system can set us up for success or failure and maps a model for better doctor-patient relationships. Full of new insights and actionable guidance, this book is the definitive guide to making good choices when you can't afford to make a bad one.
Buy On:
Easons

€28.00
Book Depository

€16.90
Waterstones

£20.00
Wordery

$16.99
(All affiliate links earn commission from purchases that help fund this site. Prices accurate at time of writing)
David Howe
How about: Hothouse Earth: An Inhabitant's Guide by Bill Mcguire
Relevant as COP27 is taking place very soon.
Hothouse Earth: An Inhabitant's Guide
Review From Book Depository: We inhabit a planet in peril. Our once temperate world is locked on course to become a hothouse entirely of our own making.

Hothouse Earth: An Inhabitant's Guide provides a post-COP26 perspective on the climate emergency, acknowledging that it is now practically impossible to keep this side of the 1.5 DegreesC dangerous climate change guardrail. The upshot is that we can no longer dodge the arrival of disastrous, all-pervasive, climate breakdown that will come as a hammer blow to global society and economy.

Buy On:
Easons

€10.91

Book Depository

€9.52

Waterstones

£9.99

Wordery

$9.59

(All links earn commission from purchases. Prices accurate at time of writing)

You can read David's previous interview & book recommendations here, and please also check out David's book Extraction to Extinction: Rethinking our Relationship with Earth's Natural Resources.


Lucy Jane Santos
My recommendation is The Facemaker by Lindsey Fitzharris as is a gory, heartbreakingly poignant, and fascinating story told by a historian at the top of their game.

I will definitely be giving this to my friends this Christmas and would urge people to do the same to theirs!
The Facemaker: One Surgeon's Battle to Mend the Disfigured Soldiers of World War I
Review From Book Depository: The poignant story of the visionary surgeon who rebuilt the faces of the First World War's injured heroes, and in the process ushered in the modern era of plastic surgery From the moment the first machine gun rang out over the Western Front, one thing was clear: mankind's military technology had wildly surpassed its medical capabilities. The war's new weaponry, from tanks to shrapnel, enabled slaughter on an industrial scale, and given the nature of trench warfare, thousands of soldiers sustained facial injuries. Medical advances meant that more survived their wounds than ever before, yet disfigured soldiers did not receive the hero's welcome they deserved.

In The Facemaker, award-winning historian Lindsey Fitzharris tells the astonishing story of the pioneering plastic surgeon Harold Gillies, who dedicated himself to restoring the faces - and the identities - of a brutalized generation. Gillies, a Cambridge-educated New Zealander, became interested in the nascent field of plastic surgery after encountering the human wreckage on the front. Returning to Britain, he established one of the world's first hospitals dedicated entirely to facial reconstruction in Sidcup, south-east England. There, Gillies assembled a unique group of doctors, nurses and artists whose task was to recreate what had been torn apart. At a time when losing a limb made a soldier a hero, but losing a face made him a monster to a society largely intolerant of disfigurement, Gillies restored not just the faces of the wounded but also their spirits.

Meticulously researched and grippingly told, The Facemaker places Gillies's ingenious surgical innovations alongside the poignant stories of soldiers whose lives were wrecked and repaired. The result is a vivid account of how medicine and art can merge, and of what courage and imagination can accomplish in the presence of relentless horror.

Buy On:
Easons

€28.00

Book Depository

€18.58

Waterstones

£17.99

Wordery

$18.99

(All links earn commission from purchases. Prices accurate at time of writing)

You can read Lucy's previous interview & book recommendations here, and please also check out Lucy's book Half Lives: The Unlikely History of Radium:


Laura Dodsworth
I would propose The Art of Loving by Erich Fromm. An old classic.
Falling in love is easy. Loving all of humanity is much harder. But neither are possible if you don't love yourself, not in a trite self-help way, but in the sense of deep self knowing and respect. Erich Fromm is one of my favourite writers. His work is a refreshing combination of deeply incisive theories and compassion.

This book is as relevant and enduring as it was in the post-Second World War era in which he wrote it. Those terrible times prompted some of the century's best thinkers to try and answer the problems of human psychology. This book might not be what you expect; it's a practical guide to love, but one which involves introspection and discipline. It's also an answer to the greatest existential questions. Without love there is nothing, so you should learn the art of loving.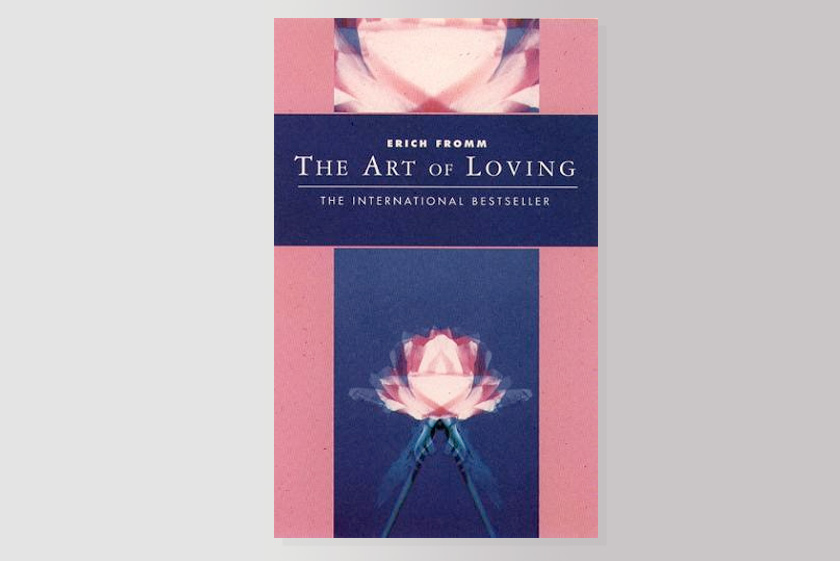 The Art of Loving
Review From Book Depository: The renowned psychoanalyst and social philosopher Erich Fromm has helped millions of men and women achieve rich, productive lives by developing their hidden capacities for love. In this frank and candid book, he explores the ways in which this extraordinary emotion can alter the whole course of your life.

Most of us are unable to develop our capacities for love on the only level that really counts: a love that is accompanied by maturity, self-knowledge, and courage. Learning to love, like other arts, demands practice and concentration. Even more than any other art it demands genuine insight and understanding.

In this classic work, Fromm explores love in all its aspects--not only romantic love, steeped in false conceptions and lofty expectations, but also love of parents, children, brotherly love, erotic love, self-love, and the love of God.

Buy On:
Book Depository

€12.96

Waterstones

£9.99

Wordery

$8.36

(All links earn commission from purchases. Prices accurate at time of writing)

You can read Laura's previous interview & book recommendations here, and please also check out Susannah's latest book A State of Fear: How the UK government weaponised fear during the Covid-19 pandemic:


Steve Hamm
The Philosophy of Modern Song by Bob Dylan.
I've only seen Bob Dylan twice in live concerts, but I have spun plenty of his disks and there's no question that he played a powerful role in shaping my consciousness. My awareness of him began in 1964, when his protest song "The Times They Are A-Changin"" came out and I was just 12 years old. The first-stanza lyrics were a wakeup call for society, and they stirred an optimism in me that has never died.

Come gather 'round people
Wherever you roam
And admit that the waters
Around you have grown
And accept it that soon
You'll be drenched to the bone
If your time to you is worth savin'
Then you better start swimmin' or you'll sink like a stone
For the times they are a-changin'

Those words seem to be even more relevant today than they were in the early 1960s—now that we have to deal with climate change and sea level rise. They demonstrate the enduring power of music and song.

Dylan's new book, The Philosophy of Modern Song just dropped, and it's fascinating to learn how he thinks about 66 great songs of the modern era—from Blues, R&B, and Soul, to Folk, Country, Jazz, Rock, Punk, and Pop. In a series of short essays, Dylan's words are by turns poignant, biting, silly, absurd, impenetrable, and revolutionary, just like his lyrics. I recommend it as a holiday gift for somebody with exquisitely good taste.

In the book, Dylan doesn't lay out a grand theory of song, but the pages are peppered with delightful and penetrating observations. One line close to the end serves as something of a coda: Music, he writes, "is of a time but also timeless; a thing with which to make memories and the memory itself." I have only one regret about the book: that he doesn't write about Robert Johnson's "Cross Road Blues." Both Johnson and Dylan are thought by some to have made deals with the devil at a crossroads to gain their musical superpowers. I wonder what Dylan makes of that.
The Philosophy of Modern Song
Review From Book Depository: The Philosophy of Modern Song is Bob Dylan's first book of new writing since 2004's Chronicles: Volume One - and since winning the Nobel Prize in Literature in 2016.

Dylan, who began working on the book in 2010, offers a masterclass on the art and craft of songwriting. He writes over 60 essays focusing on songs by other artists, spanning from Stephen Foster to Elvis Costello, and in between ranging from Hank Williams to Nina Simone. He analyses what he calls the trap of easy rhymes, breaks down how the addition of a single syllable can diminish a song and even explains how bluegrass relates to heavy metal. These essays are written in Dylan's unique prose. They are mysterious and mercurial, poignant and profound, and often laugh-out-loud funny. And while they are ostensibly about music, they are really meditations and reflections on the human condition. Running throughout the book are nearly 150 carefully curated photos as well as a series of dream-like riffs that, taken together, resemble an epic poem and add to the work's transcendence.

In 2020, with the release of his outstanding album Rough and Rowdy Ways, Dylan became the first artist to have an album hit the Billboard Top 40 in each decade since the 1960s. The Philosophy of Modern Song contains much of what he has learned about his craft in all those years and, like everything that Dylan does, it is a momentous artistic achievement.

Buy On:
Easons

€32.99

Book Depository

€29.06

Waterstones

£30.00

Wordery

$30.00

(All links earn commission from purchases. Prices accurate at time of writing)

You can read Steve's previous interview & book recommendations here, and please also check out Steve's latest book The Pivot: Addressing Global Problems Through Local Action:


Matt Winning
The book I would recommend is We're All Climate Hypocrites Now by Sami Grover.
I'm about half way through it and it is really great at navigating the balance between what we should and shouldn't feel responsible and guilty about as individuals when dealing with climate change.
We're All Climate Hypocrites Now: How Embracing Our Limitations Can Unlock the Power of a Movement
Review From Book Depository: Taking a tongue-in-cheek approach, self-confessed eco-hypocrite Sami Grover says we should do what we can in our own lives to minimize our climate impacts and we need to target those actions so they create systemic change. We're All Climate Hypocrites Now helps you decide what are the most important climate actions to take for your own personal situation.

Our culture tells us that personal responsibility is central to tackling the climate emergency, yet the choices we make are often governed by the systems in which we live. Whether it's activists facing criticism for eating meat or climate scientists catching flack for flying, accusations of hypocrisy are rampant. And they come from both inside and outside the movement.

Sami Grover skewers those pointing fingers, celebrates those who are trying, and offers practical pathways to start making a difference. We're All Climate Hypocrites Now covers:

How environmentalism lost its groove
Why big polluters want to talk about your carbon footprint
The psychology of shaming
How businesses can find their activist voice
The true power of individuals to spark widespread change.

By understanding where our greatest leverage lies, we can prioritize our actions, maximize our impact, and join forces with the millions of other imperfect individuals who are ready to do their part and actually change the system.

Buy On:
Book Depository

€13.71

Waterstones

£14.99

(All links earn commission from purchases. Prices accurate at time of writing)

You can read Matt's previous interview & book recommendations here, and please also check out Matt's book Hot Mess: What on earth can we do about climate change?:



~


Huge thanks & míle buíochas to Talya, David, Lucy, Laura, Steve, & Matt for their great Christmas book picks!
Watch out next week for Part I of the series with more author recommendations :-)
Daryl




Image Copyrights: Ebury Publishing (Influence Is Your Superpower), Basic Books (Your Life Depends on It), Saraband (Extraction To Extinction), Icon Books (Hothouse Eart), Penguin Books Ltd (The Facemaker), Pinter & Martin Ltd. (A State Of Fear), HarperCollins Publishers (The Art of Loving), Columbia University Press (The Pivot), Simon & Schuster Ltd (The Philosophy of Modern Song), Headline Publishing Group (Hot Mess), New Society Publishers (We're All Climate Hypocrites Now)


< Home