Interview with Sarah Graham, author of Rebel Bodies: A guide to the gender health gap revolution

Sarah Graham, author of Rebel Bodies: A guide to the gender health gap revolution recommends a great group of books! Before jumping into the interview, please check out Sarah's book: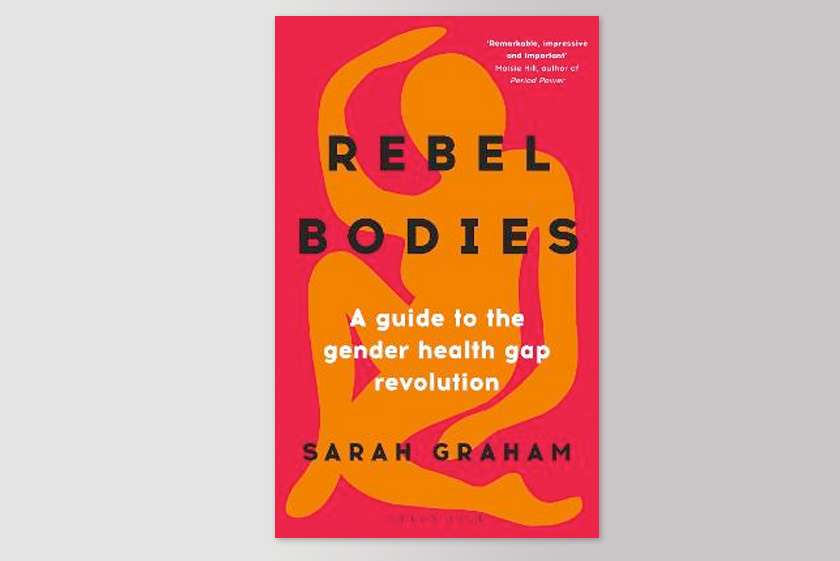 Rebel Bodies: A guide to the gender health gap revolution
Review from Book Depository: An inclusive and empowering manifesto for change in women's healthcare - exploring the systemic and deep rooted sexism within medicine, and offering actionable ways for women to advocate for ourselves and others and get the diagnosis and treatment we need. Have you ever been to a doctor and felt like you were being fobbed off or ignored? Did they belittle or overlook your concerns about your health? Ever been told you're just 'hormonal'? You're not alone.

Women make up 51 per cent of the population and are the biggest users of healthcare services - for themselves and as mothers and carers. But all the research shows there are massive gender differences in men and women's healthcare. Our pain and suffering has been disbelieved; we are misdiagnosed, given tranquilisers when we need painkillers, antidepressants when we need HRT, and not trusted to make informed choices about our own bodies. As women speak out about their experiences of gaslighting and misdiagnosis, health journalist Sarah Graham investigates what it will take to bridge the gender health gap. Meet the patients, doctors and campaigners who are standing up and fighting back, and find practical tips on advocating for your own health. Be inspired by stories that will incite and offer hope.

You're not alone, you're not going mad, and we believe you.

Buy On:
Easons €16.09 Book Depository €16.47 Waterstones £16.99 Wordery $16.63

(All links earn commission from purchases. Prices accurate at time of writing)
~

Q. Do you have a favourite smart thinking book (and why that book)?
I have lots, but the first one that comes to mind is Quiet by Susan Cain. I first read it as a student and it was a really life-changing and affirming read in terms of how I feel about being an introvert. I'd always previously considered it a character flaw, but Quiet helped me to understand how central it is to who I am and how I work, and that actually it's a real strength in so many ways.


Quiet: The Power of Introverts in a World That Can't Stop Talking
Review from Book Depository: Quiet, the Sunday Times and New York Times Bestseller by Susan Cain, will permanently change how we see introverts - and how you see yourself.

Our lives are driven by a fact most of us can't name and don't understand: whether we're an introvert or an extrovert. This defines who our friends and lovers are, which careers we choose, and whether we blush when we're embarrassed. At least a third of us are on the introverted side. Some of the world's most talented people are introverts. Without them, we wouldn't have the Apple computer, the theory of relativity and Van Gogh's sunflowers. Yet extroverts have taken over. Shyness, sensitivity and seriousness are often seen as being negative. Introverts feel reproached for being the way they are.
In Quiet, Susan Cain shows how the brain chemistry of introverts and extroverts differs, and how society misunderstands and undervalues introverts. She gives introverts the tools to better understand themselves and take full advantage of their strengths.

Buy On:
Easons €10.49 Book Depository €10.41 Waterstones £11.99 Wordery $10.33

(All links earn commission from purchases. Prices accurate at time of writing)
Q. What's the most recent smart thinking book you've read (and how would you rate it)?
I'm currently reading Milk: An intimate history of breastfeeding by Joanna Wolfarth. It blends the author's personal experiences of struggling with breastfeeding with her background as an art historian, looking at the way infant feeding, and women's lactating bodies, have been portrayed throughout history. Having become a mother myself last year, and now almost 13 months into my own constantly-evolving breastfeeding journey, I'm finding it a really beautiful and thought provoking read.


Milk: An Intimate History of Breastfeeding
Review from Book Depository: When Joanna Wolfarth was pregnant with her first child, she assumed she would breastfeed, as her mother had fed her. Yet she was unprepared for the startling realities of new motherhood. Then, just four weeks after the birth, she found herself back in hospital with an underweight baby, bewildered by inconsistent advice and overcome with feelings of guilt and isolation.

Months later, her cultural historian's impulse led her to look to the past for guidance. What she discovered, neglected in the archives, amazed and reassured her. By piecing together cultural debris - from fragments of ancient baby bottles to eighteenth-century breast pumps, from the Palaeolithic Woman of Willendorf figurine to the poignantly inventive work of Louise Bourgeois and from mythical accounts of the creation of the Milky Way to advice found in Victorian medical manuals - Joanna began to understand how feeding our babies can be culturally, economically and physiologically determined as well as deeply personal and emotive.

Using the arc of her own experience, Joanna takes us on an intimate journey of discovery beyond mother and baby, asking how the world views caregivers, their bodies, their labour and their communal bonds. By bringing together art, social histories, philosophy, folk wisdom and contemporary interviews with women from across the world, Milk reveals how infant feeding has been represented and repressed, celebrated and censured. In doing so, Joanna charts previously unexplored territory and offers comfort and solace to anyone who has fed or will feed a child.

Buy On:
Easons €23.80 Book Depository €16.11 Waterstones £18.99 Wordery $17.51

(All links earn commission from purchases. Prices accurate at time of writing)



Q. Do you have a favourite childhood book?
Again I have so many that I'm struggling to pick just one. I was a huge reader of Enid Blyton, Roald Dahl and Jacqueline Wilson as a child, and the Harry Potter series. I also absolutely adored Goodnight Mister Tom by Michelle Magorian, and Frances Hodgson Burnett's Secret Garden and A Little Princess. But probably the one with most emotional significance is The Hobbit by J.R.R. Tolkein, which my dad read to me. It was such a memorable and special part of our evening routine (we later went on to read The Lord of the Rings) and really helped to capture my imagination and love of the written word.
The Hobbit
Review From Book Depository: The Hobbit is a tale of high adventure, undertaken by a company of dwarves in search of dragon-guarded gold. A reluctant partner in this perilous quest is Bilbo Baggins, a comfort-loving unambitious hobbit, who surprises even himself by his resourcefulness and skill as a burglar.

Encounters with trolls, goblins, dwarves, elves and giant spiders, conversations with the dragon, Smaug, and a rather unwilling presence at the Battle of Five Armies are just some of the adventures that befall Bilbo. Bilbo Baggins has taken his place among the ranks of the immortals of children's fiction. Written by Professor Tolkien for his own children, The Hobbit met with instant critical acclaim when published.

Buy On:
Easons €8.79 Book Depository €34.97 Waterstones £8.99 Wordery $10.20

(All links earn commission from purchases that help fund this site. Prices accurate at time of writing)



Q. Do you prefer reading on paper, Kindle or listening to an audiobook?
Paper, absolutely - you can't beat the beauty and feel of a physical book. Although I was briefly converted to audiobooks after the birth of my son, when I was often awake and had my hands full at odd times of the day and night!
Q. Do you have a favourite bookshop (and why that shop)?
I'm going to cheat and pick two again. Shakespeare & Co, which is just one of the most magical places on earth and was a real sanctuary when I was a lonely student living in Paris. And my current local independent bookshop, David's Books in Letchworth, because it has such warmth and character, as well as an excellent cafe.
~

Many thanks to Sarah for recommending a great group of books! Please don't forget to check out Rebel Bodies: A guide to the gender health gap revolution.
Daryl
Image Copyrights: Bloomsbury Publishing PLC (Rebel Bodies), Penguin Books Ltd (Quiet), Orion Publishing Co (Milk), HarperCollins Publishers (The Hobbit).
< Home